Merger & Acquisition, Corporate Finance & Business Advisory Services

"SAVVY DEALMAKERS AT COLMEN MENARD"
from the May 2001 issue of
M&A TODAY
(reprinted with permission)


Savvy Dealmakers at Colmen Menard
Editor's Note: One of the challenges of M&A Today is to report on middle market investment bankers that have a unique business mode.  Your Editor was pleased to recently visit Colmen Menard Company just outside of Philadelphia in Bala Cynwyd, Pennsylvania. Undoubtedly, the firm is unique for its size in the breadth and depth of its services, yet it is able to offer expertise in four industries. This feature article on Colmen Menard describes not only how the firm is different from other merger and acquisition consultants, but also how it is able to leverage its specific industry knowledge.
BACKGROUND
Colmen Menard, established in 1982 under a different name, now has a five-person professional staff, all of whom have held both line and staff executive positions with major industrial manufacturing, technology and service businesses prior to joining the firm. Each professional has at least twenty-five years of operational and consulting experience in their industry. Historically, two-thirds of the work involves exclusive sell-side engagements and the balance represents buy-side and financing assignments. Typically, transaction size ranges from $3 million to $ 100 million, and the firm averages ten to twelve closings per year.
Overall Approach
David Menard, the founder, states: "We're flexible on everything except ethics. In fact, we have no standard fee agreement, no standard confidentiality agreement and no standard offering memorandum. Additionally, depending on the circumstances and the potential client, we may position ourselves as a boutique M&A firm, a corporate finance company, a business intermediary or an investment banker, whichever makes it easiest for the other party to understand the nature of our business."
Paul Mudrick, a Managing Director with the firm for the past seven years, says: "Colmen Menard has a reputation of being very ethical and operates differently than other investment bankers. The principals of the firm have been very successful during their business careers and our industry knowledge and experience has led to a very high percentage of completed transactions." Paul often tells the acquirers of the companies he sells: "You may be paying more than you think it's worth, but you'll find that you are actually getting more than you pay for."
Colmen Menard's approach is to undertake engagements where one or more of its professionals have specific industry knowledge and contacts, significant business experience and the necessary interpersonal skills required to handle the dynamics of that particular engagement.
The Firm's Difference
Broad Reach: For a relatively moderate size firm of five professionals, two outside consultants and two support staff, Colmen Menard has a broad reach geographically, having completed transactions in 30 different states and five different countries including Canada, France, the Netherlands, Puerto Rico and the United Kingdom. Two of the firm's largest deals were a $120 million transaction in Oregon and a $100 million transaction in Michigan. Colmen Menard has also been involved in transactions with 33 different public companies, including Honeywell, McDonnell Douglas, N.V. Philips, Pitney Bowes, Sysco and Westinghouse Electric.
Mature Team: David Menard believes that experience is highly beneficial in the M&A business and all the dealmakers are over fifty years old with extensive operational experience in major corporations. As David says: "All our deal-makers are Managing Directors. We just use the first team. They have the industry knowledge, the contacts, the negotiating skills and can relate well to their clients because they have "been there – done that."
David, the CEO of Colmen Menard, has had an outstanding career himself. He was the youngest MBA graduate from Cornell's MBA program at age twenty-two. While at Price Waterhouse, he became a CPA and worked the IBM and Exxon accounts. Later, he joined WR Grace and was involved in numerous corporate acquisitions and spin-offs. Before co-founding his firm in 1982, he was with IU International Corporation (IU), at that time one of the largest conglomerates with interests in utilities, ocean shipping, trucking, manufacturing and distribution. At IU, David was a Corporate Vice President of Audit Services and Chief Financial Officer for its group trading as Gotaas Larsen Shipping Corporation.
Aside from David, the four Managing Directors have been with the firm for an average of ten years. Many financial types would like to join Colmen Menard as investment bankers, but David is not keen on changing his successful formula of just using 'operational' people as dealmakers. Perhaps more than any other single factor contributing to the firm's success is that Colmen Menard's team capitalizes on their operational expertise to close deals … not the financial engineering utilized by many of their peers.
Difficult Engagements: Colmen Menard will take on almost all M&A assignments in spite of the degree of difficulty as long as the potential transaction is of reasonable size, the client is honorable and reputable, agrees to pay a retainer, and has reasonable selling price expectations.
While most of Colmen Menard's deals flow smoothly, the firm has developed a reputation for successfully dealing with companies possessing characteristics that make them 'difficult' engagements, such as the following:
• complex people dynamics
• hard to understand business
• conflict among shareholders
• pressure from third parties
• bankruptcy proceedings
• union problems
• poor records
• environmental problems
• operational problems
• underfunded pension plan liabilities
Of the fourteen actual examples of investment banking services provided by Colmen Menard for troubled companies, the average sales per company were $18 million. The typical problems of the troubled companies invariably can be described accordingly: "A significant decline in sales volume and a greater decline in profit margins resulting in a weak financial condition caused its secured lender to request that the company find another financing source." The solution usually can be described as follows: "Colmen Menard located a strategic buyer who purchased most of the company's assets. The secured lender usually took a 'hair-cut' and proceeds from the liquidation were usually insufficient to provide for significant payments to the unsecured creditors."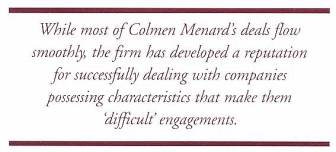 Industry Specialties
Environmental/Engineering: Larry Corr, who has been with the firm for fourteen years, focuses on environmental companies such as those involved in hazardous and solid waste management, industrial and commercial cleaning and maintenance, consulting engineering services, pollution control equipment, sludge handling, recycling, etc. He currently is working on several buy or sale assignments in the above mentioned industries.
Prior to joining Colmen Menard, Larry was Vice President of Corporate Development for Laidlaw Industries, a Canadian based publicly traded company involved in waste management. Not only does Larry intimately know the market-place and talk the industry language, but he also has an up-to-date industry database of 2,000 companies. By receiving about fifteen trade magazines per month, he is able to keep abreast of the recent events and active deal sources.
The hazardous waste industry is not as robust nowadays because the government regulators have been pressured to "back-off" on some industry regulatory enforcement issues. As a result, most large Wall Street investment banks have ignored this industry segment, leaving Colmen Menard an enormous opportunity to transact deals with major public and private companies. In particular, there are many deal opportunities with companies that provide equipment and services to the water and wastewater market. Larry has also been very active in representing consulting engineering firms in both buy and sell side assignments.
Industrial: Otto Grieshaber, who has been with the firm for ten years, focuses on industrial companies that tend to be larger than the average business represented by Colmen Menard. Otto has served as a director and officer on the boards of nineteen companies and has successfully participated as a managing investor in one $150 million and one $800 million LBO. The latter as COO of Joy Technologies, Inc., a Fortune 500 manufacturing company in the environmental systems, materials management and mining machinery business.
Otto is currently in the process of selling a $40 million hardwood component manufacturer to a private equity group (PEG) that will use this acquisition as a platform for other industry add-ons. Because most strategic type buyers are undergoing their own industry problems, Otto decided to target PEGs in order to receive the highest price for the business.
In another assignment, Otto is selling a manufacturer of store displays, exhibits, kiosks and fixtures, principally because the owner seeks new business challenges. If Colmen Menard is unable to conclude a sale for the price required by their client, the client has engaged Otto to represent the company in acquiring other industry players, adding new zest and challenges for the current owner.
In another potential assignment, Otto, having more than 15 years of worldwide power plant experience, has identified a consolidation opportunity in power plant subsystems. These include ash and lime-stone handling systems, scrubber and sludge systems, flue-gas reheaters and sootblowers, water treatment and reuse, electrical systems and a broad array of other components. He notes that 40% of the existing powerplants in this country are between 30 to 40 years old, and that Vice President Dick Chaney's energy taskforce is calling for the construction of 1,200 new power plants during the next twenty years.
Healthcare: Paul Mudrick, who has been with the firm for seven years, focuses on healthcare service businesses such as those engaged in durable medical equipment infusion therapy, respiratory therapy, pharmacy services, durable medical equipment, home health agencies and nursing services. Prior to joining the firm, Paul was the principal owner of a retail chain, Central Drug Company, and Central Drug Labs that were both sold to Rite Aid Corporation. In addition, Paul was the principal owner of Central Medical Equipment Company that was sold to a division of Avon Products. When discussing potential assignments with health care companies, Paul knows how these businesses operate and the problems and opportunities confronting them and his track record in closing deals certainly reflects his expertise.
Paul's approach in selling companies is very focused and intense. He usually works for only one client at a time, but maximizes his effort, resulting in an average of over three successful transactions a year with deals ranging from $3 million to $30 million. Not only is Paul's approach different from others at Colmen Menard, but he arrives at the office before 6 AM and leaves by noon, finishing his workday at home in Chadds Ford. Paul relates well to clients because he is not an accountant, an attorney, or even an MBA, but a former pharmacist who does what he likes to do best … help people. In this case, it is helping clients sell their business for as much as possible. On the other hand, if it is not the right time to sell a company, or the potential client will not net enough money after taxes and closing costs, Paul will urge the seller to come back to him in a year or two. He undertakes some buy-side assignments, because they often lead to sell-side clients.
Continuing with Paul's approach to selling companies, he explains that, since he only approaches strategic buyers in behalf of his selling client, he doesn't write his offering memoranda with industry trends and statistics because that information is common knowledge to his target buyers. He does, however, acutely analyze the company's operations showing how it can cut costs and make more money. Many of Paul's buyers are acquiring healthcare companies to increase their market share and his intimate knowledge of the industry allows him to quickly find attractive acquisition candidates. As David Menard says: "Paul is very low-key when signing-up a client, focuses intensely while the assignment is underway, and ends up as an excellent matchmaker, resulting in a successful conclusion of the transaction."
Technology: George Stack, who has been with the firm for two years, covers a wide range of high technology businesses with emphasis on those providing computer hardware and soft-ware products and services. Prior to joining the firm, George was COO for Softbank Content Services, Inc., an international software and logistics services company supplying computer manufacturers and software developers. Prior executive positions were held with IBM and ITT. To keep current, he is a member of the Eastern Technology Council and the Philadelphia-based Entrepreneurs' Forum and also works closely with local venture capital organizations.
Technology is a relatively recent area of specialization for Colmen Menard, but it is an important addition for the firm. Not only does George have a technology background with a Bachelor of Science in Physics, as well as an MBA in Operations Research, and 13 years at IBM, but his professional attributes also include the following:
• ability to talk the technology language and understand new developments
• understand and articulate the technology to potential buyers and sellers
• know where the client's company should go and how to get there
• awareness of the client's competition
Due to his past experience in this area, George receives numerous referrals from turnaround specialists and he has recently completed the sale of a bankrupt manufacturer of coated fabrics. When approving the transaction, the Bankruptcy Court judge stated that the price he obtained was a lot higher than she expected to see. His current clients include a manufacturer of precision parts looking for an acquisition in the $5 to $20 million range, a $6 million distributor of sign making supplies and products whose owners want to retire, a $25 million metalworking machinery dealer that needs growth capital, and a start-up requiring financing.
As George concluded the conversation, he reinforced the strength of Colmen Menard by emphasizing: "Our clients respect our operational savvy and know that at any moment any of us could step into their company and help them run it."
Business Development
New business is generated through David Menard whose reputation is ubiquitous in the M&A industry as well as through the four Managing Directors who capitalize on their industry specialties. Additionally, the firm is very responsive when they are being considered for an assignment, as shown by the following example:
One sizeable hardware company called David Menard and said they were about to hire a larger M&A firm unless David could convince them to retain Colmen Menard in the next day or two. David called McCormick Place in Chicago and, serendipitously, the national hardware show, the largest in the world, was scheduled for the following week. David called his potential client and said that two people from his firm would spend the next week at McCormick Place working the show for contacts and heavy networking in order to identify potential acquisition targets. Not only did Colmen Menard get the assignment, but they also successfully closed a transaction for their client.
CONCLUSION
At the end of our meeting at Colmen Menard's office on the outskirts of Philadelphia, David Menard said: "Strategic buyers are looking to enter new markets … competitors are looking to grow market share … and financial buyers are looking to benefit from the target company's financial performance. On the other hand, selling a business is a once-in-a-lifetime transaction for most people. It is often conducted under pressured conditions, with an eye on hard numbers that don't always tell the whole story. For the last eighteen years, we have successfully been able to orchestrate orderly, profitable changes in ownership for our clients." •

To obtain a subscription to M&A Today:
   The M&A Today publisher's website   

Colmen Menard Company, Inc.
David W. Menard, President and CEO
111 Presidential Boulevard, Suite 240
Bala Cynwyd, PA 19004, USA
Telephone:610-667-9050
Fax: 610-667-9915
e-mail: [email protected]
More Contact Information