Merger & Acquisition, Corporate Finance & Business Advisory Services

PROFESSIONAL TEAM
David W. Menard, President and CEO

Mr. Menard is the founder and principal shareholder of Colmen Menard Company. He focuses on all aspects of the firm's merger and acquisition, corporate finance and business advisory service activities. He concentrates on food, consumer products, industrial manufacturing, metalworking, wholesale distribution, transportation, and financial and business service businesses. He has over thirty years of diversified business experience.
replica richard mille
Prior to 1982, David Menard was employed, chronologically, in a variety of primarily accounting, financial, and general management positions with Price Waterhouse (accounting/management consulting), W.R. Grace & Co. (controllership/planning/acquisitions), First Jersey National Corporation – now part of Fleet Financial Group (Vice President – Finance and CFO), and IU International Corporation (Vice President – Finance and CFO of Gotaas-Larsen Shipping Corporation/Corporate Vice President of Audit Services).
Mr. Menard holds a BS in Economics from Cornell University and an MBA in Accounting and Finance from the Johnson Graduate School of Management at Cornell University. He completed the Harvard Business School Corporate Financial Management Program and is also a CPA. Mr. Menard is an active private investor, a director of several companies and active in a number of civic, social and business organizations.
e-mail: [email protected]

Lawrence J. Corr, Managing Director

Mr. Corr focuses on environmental companies such as those involved in hazardous and solid waste management, industrial and commercial cleaning and maintenance, consulting engineering services, pollution control equipment, sludge handling, asbestos, recycling, and related products and services. He has spent over twenty years in sales, marketing, general management and corporate development positions with companies involved in a broad range of industrial manufacturing and services.
Prior to joining the firm in 1987, he was Vice President for Corporate Development for Laidlaw Industries, Inc., a Burlington, Ontario, Canada based publicly traded firm involved in transportation and industrial services and waste management. Previous affiliations were with Western Waste Industries and Waste Resources Corporation.
Mr. Corr holds a BA in Political Science from LaSalle University.
e-mail: [email protected]

Otto A. Grieshaber, Managing Director

Mr. Grieshaber focuses on industrial manufacturing, distribution and service businesses serving the steel and primary metals, pulp and paper, food processing, chemical and petrochemical, pharmaceutical, utilities and other industries. He has over thirty years of worldwide general management, operations, marketing and engineering experience with capital goods and services companies and has served as a director on the corporate boards of numerous companies.
Prior to joining the firm in 1990, he participated, as managing investor, in one $150 million and one $800 million LBO and has directed a variety of other corporate acquisitions and divestitures. He was previously Chief Operating Officer for Joy Technologies, Inc. and President of Allen-Sherman-Hoff Co. He was also Senior Vice President of Conversion Systems Division of IU International Corporation and President of Enviro-Systems Division of Zurn Industries, Inc.
He holds a BS in Mechanical Engineering from the University of Arizona.
e-mail: [email protected]

Paul S. Mudrick, Managing Director

Mr. Mudrick's activities include assisting clients in the purchase, sale or divestiture of healthcare businesses and obtaining debt and equity financing, where transaction values are in the $3,000,000 to $30,000,000 range. During the eight years since founding the Healthcare Division at Colmen, Mr. Mudrick has successfully closed twenty-four transactions for both private and public healthcare companies that represented an aggregate transaction value of over $192,000,000.
His personal experience includes more than forty-one years in the healthcare industry. Prior to joining Colmen Menard, he was the owner of a chain of pharmacies that was sold to the Rite Aid Corporation. Mr. Mudrick was also President & CEO of Central Medical Equipment Co. that was sold in 1986 to the Foster Medical Division of Avon Products Inc. and is now part of Apria Home Healthcare, Inc.
Mr. Mudrick has a BSc in Pharmacy from Temple University.
e-mail: [email protected]

George T. Stack, Managing Director
Mr. Stack focuses on high technology businesses with primary emphasis on those providing computer hardware and software products and services, Internet and e-commerce, telecommunications, professional services, start-ups, manufacturing and distribution. He has over thirty years of worldwide general management, finance, marketing and sales experience in Information and High Technology.
Prior to joining the firm in 1999, Mr. Stack served as Chief Operating Officer for SOFTBANK Content Services, Inc., an international software and logistics services company supplying computer manufacturers and software developers. He was previously Executive Vice President and co-founder of Sentinel Systems Inc. and a Senior Vice President and General Manager for Decision Data Corporation. Prior executive positions were held with IBM, ITT and New York Telephone Company.
Mr. Stack holds a BS in Physics from Manhattan College and an MBA in Production Management and Finance from Columbia University.
e-mail: [email protected]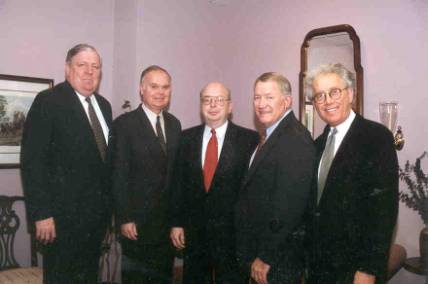 The Colmen Menard Professional Team

Colmen Menard Company, Inc.
David W. Menard, President and CEO
111 Presidential Boulevard, Suite 240
Bala Cynwyd, PA 19004, USA
Telephone:610-667-9050
Fax: 610-667-9915
e-mail: [email protected]
More Contact Information